Auto Body Sheet Metal Suppliers
Haomei Aluminum is one of the auto body sheet metal suppliers based in China who offer high level aluminum product for automotive. When applied as auto body material, the width of aluminum sheet should be wide, Haomei Aluminum fully utilized its production line advantages and successfully achieved mass production of 2100mm ultra-wide cast and rolled aluminum sheet, challenging the limits of the equipment. This successful production of ultra-wide cast and rolled aluminum sheet products in the extreme specifications has added weight to the company's position in the aluminum processing market. "With the strong development of energy-saving related industries, ultra-wide aluminum auto body sheet are in high demand in the market." Due to its light weight, environmental friendly nature, and excellent corrosion resistance, ultra-wide aluminum auto body sheets are widely used in various construction fields such as airports, high-speed rail stations, sports venues, and exhibition centers, making them the preferred choice for major aluminum processing manufacturers.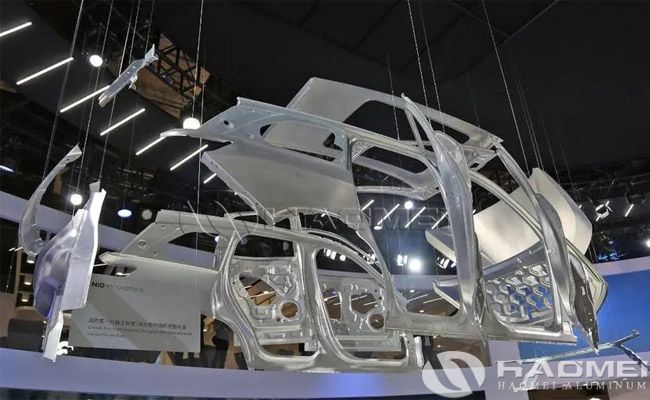 Currently, most auto body sheet metal suppliers produced ultra-wide aluminum sheets are made using semi-continuous casting ingots, which are then hot-rolled and cold-rolled. This process is complex and costly. Haomei Aluminum has decided to adopt a green and short-process cast and rolled aluminum processing technology, which eliminates the remelting process, reduces transportation and storage, saves energy, and reduces secondary burning losses. It has significant cost advantages in terms of shorter production cycles and lower energy consumption. However, cast and rolling technology presents great production difficulties and strict quality requirements. The company owns a large-scale cast and rolling production line, which serves as a major cast and rolled aluminum sheet processing base in the country. With 4 units of 2350mm wide rolling mills, the company can produce qualified ultra-wide aluminum auto body sheets. The company has also established an aluminum industry research team to promote the integration of production, sales, and research, implement the responsible system for major problems and research projects, and restart the development of ultra-wide cast and rolled aluminum sheets. The research and development team has focused on tackling key issues and formulated detailed plans for the trial production and development of ultra-wide aluminum auto body sheets. To address potential quality defects such as poor plate shape, coarse grain size, and sliding edges, corresponding preventive measures have been developed. The company continuously optimizes the process through local improvements and provides training and technical instructions for production and quality inspection personnel. After relentless efforts by the research and development team, Haomei Aluminum Company finally overcame several challenging problems and resolved the plate shape issues.
Currently, mass and stable production of ultra-wide cast and rolled ABS plates has been achieved, with a total output of 1352 tons of finished products. The feedback from customers after using the products has been good. Next, auto body sheet metal suppliers will continue to optimize the cost and performance indicators of the current products to accumulate experience in the research and development of aluminum for automotive use.